The iOS Chatbox SDK can be installed in a few lines of codes in any iOS app. The iOS SDK is native, and looks exactly the same as the Web-based chatbox.
Video Tutorial
---
Installation
1. Install Crisp iOS SDK
Option 1: Using SwiftPM
To use the Crisp iOS SDK with SPM, add a dependency to your Package.swift file:
let package = Package(
  dependencies: [
    .package(url: "https://github.com/crisp-im/crisp-sdk-ios.git", ...)
  ]
)

Option 2: Using CocoaPods
Add Crisp to your CocoaPods Podfile:
use_frameworks!

target :YourTargetName do
  pod 'Crisp'
end

Then run: pod install
Option 3: Manual installation
Download and extract the Crisp iOS SDK.
Drag the Crisp.xcframework into your project, select Copy items if needed in the following dialog and click Finish.
Finally, configure the Crisp.xcframework to Embed & Sign in the Frameworks, Libraries, and Embedded Content section of your app's target settings.
---
2. Update your Info.plist
To enable your users to take and upload photos to the chat as well as download photos to their photo library, add the Privacy - Camera Usage Description (NSCameraUsageDescription) and Privacy - Photo Library Additions Usage Description (NSPhotoLibraryAddUsageDescription) to your app's Info.plist.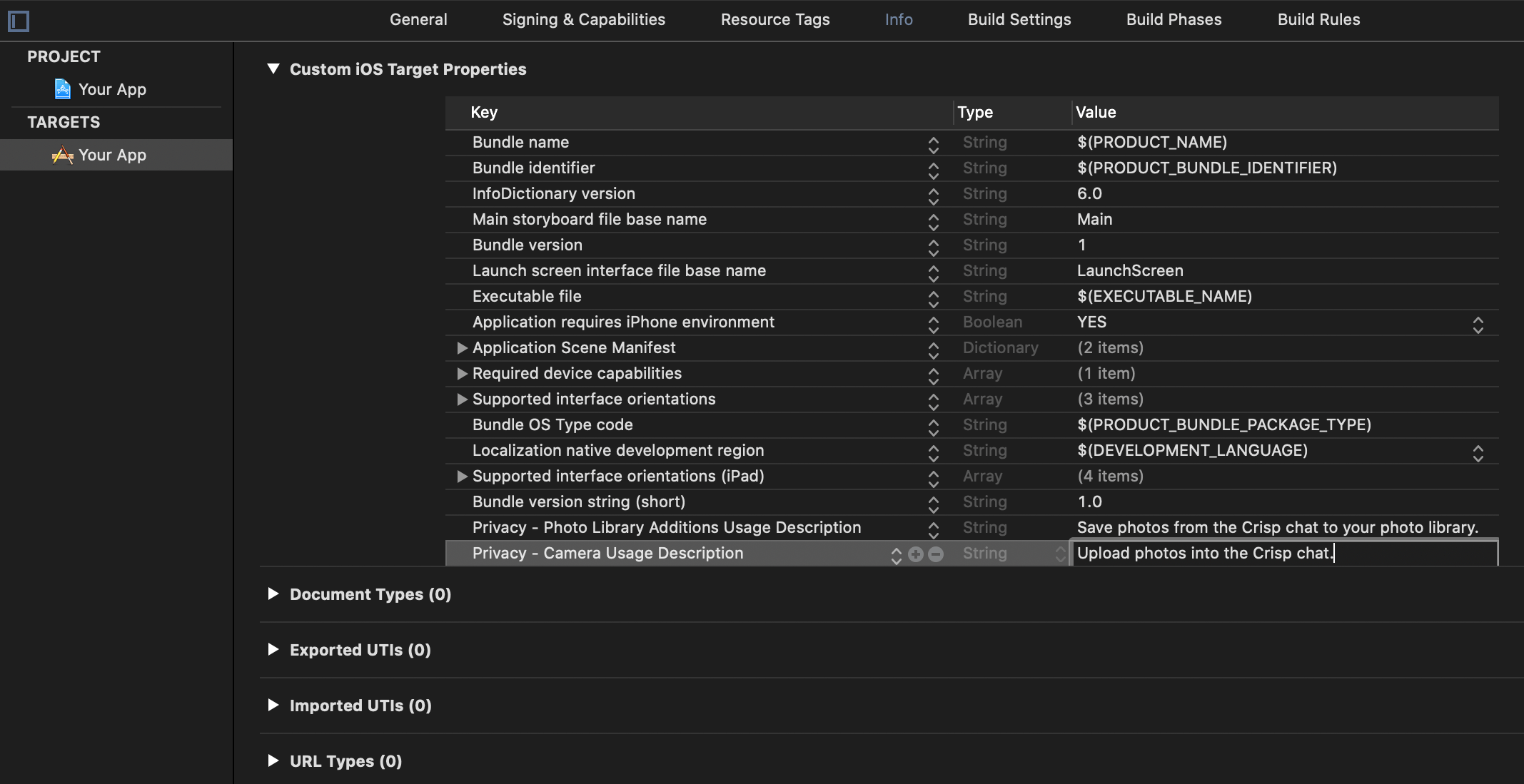 ---
3. Configure the Crisp iOS SDK
Go to your Crisp Dashboard, and copy your Website ID: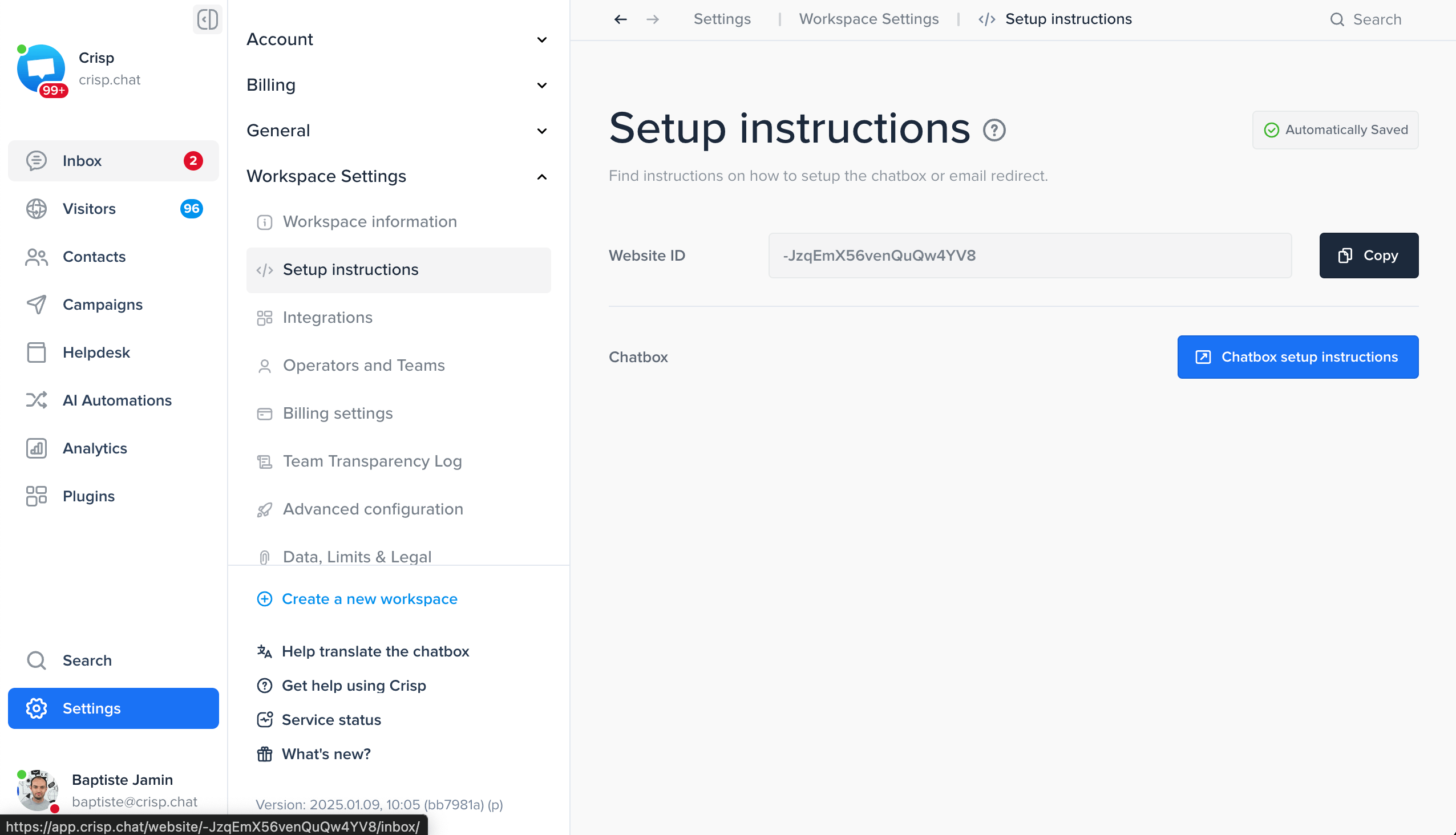 Then, configure the Website ID in the SDK code:
import Crisp

// In your func application()
CrispSDK.configure(websiteID: "YOUR_WEBSITE_ID")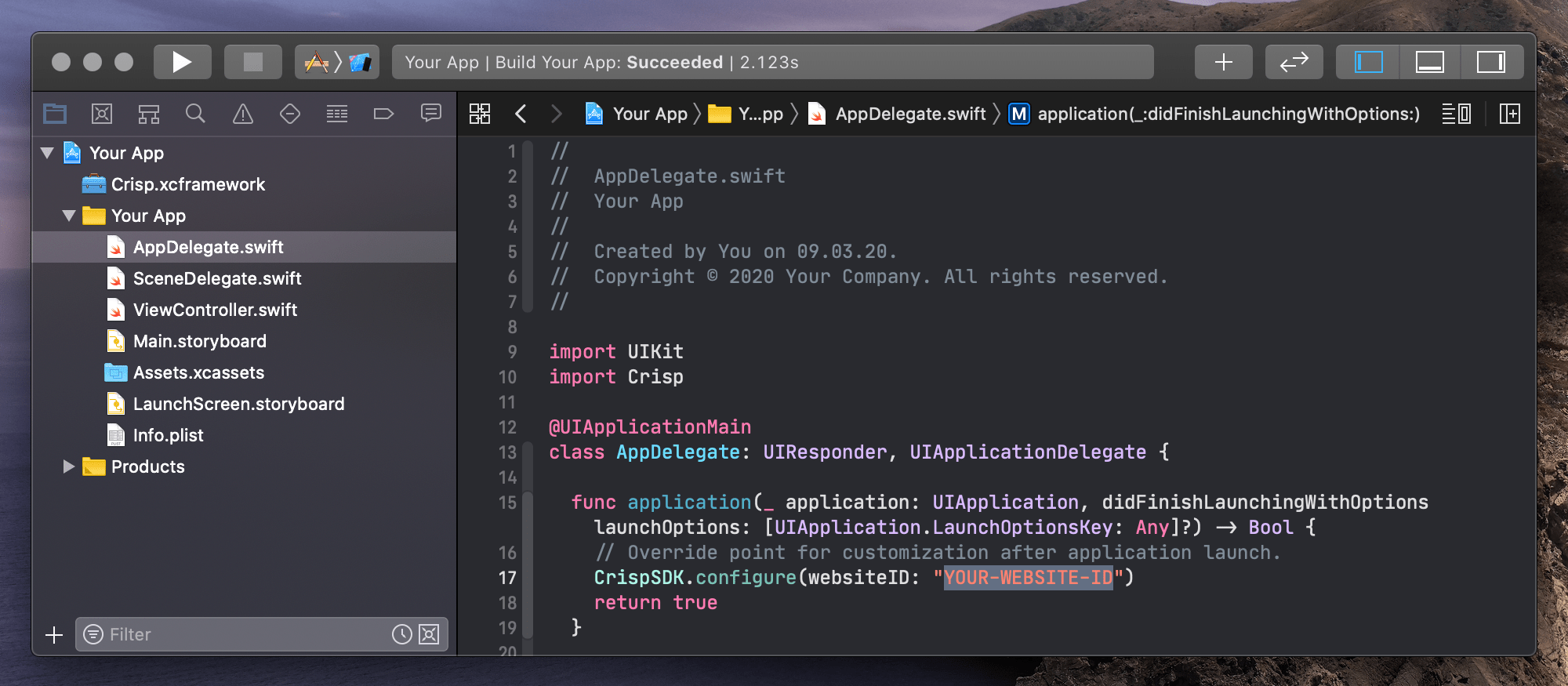 ---
4. Present the ChatViewController
import Crisp

class ViewController: UIViewController {
    @IBAction func startChat(_ sender: Any) {
        self.present(ChatViewController(), animated: true)
    }
}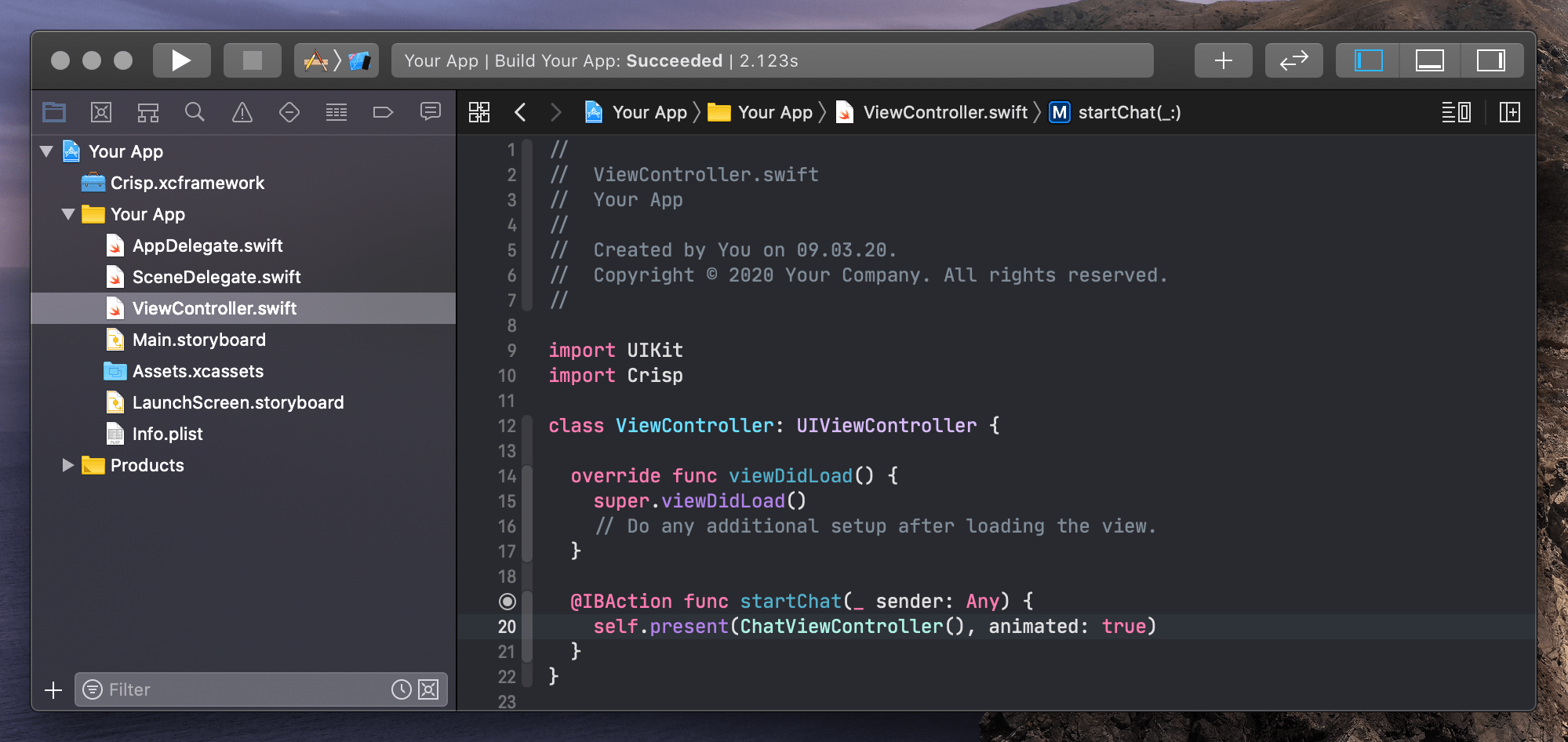 ---
Availables APIs
Swift APIs
CrispSDK.setTokenID(tokenID: "A_CUSTOM_ID") — Assigns session with a token_id
CrispSDK.user.email = "john.doe@gmail.com" — Sets user email
CrispSDK.user.nickname = "John Name" — Sets user name
CrispSDK.user.phone = "003370123456789" — Sets user phone
CrispSDK.user.avatar = URL(string: "https://pbs.twimg.com/profile_images/782474226020200448/zDo-gAo0_400x400.jpg") — Sets user avatar
CrispSDK.user.company = Company(name: "Acme", url: nil, companyDescription: nil, employment: nil, geolocation: nil) — Sets user compay
CrispSDK.session.setString("custom_value", forKey: "custom_key") — Sets session data string
CrispSDK.session.setInt(42, forKey: "custom_key") — Sets session data int
CrispSDK.session.pushEvent(SessionEvent(name: "Signup", color: SessionEventColor.blue)) — Sets Sends an event
CrispSDK.session.segment = "app" — Sets session segment
CrispSDK.session.reset() — Reset session